Punjab Career Guidance Portal Online Registration, Login at punjabcareerportal.com | Punjab Career Portal Candidate Eligibility, Benefits & Other details – Punjab Career Portal has been launched by the Government of Punjab for secondary and higher secondary students. This portal has been started for the guidance of the students, UNICEF and Aasman Foundation have joined hands with the state government for the smooth operation of this work. The online registration process for 2022 has been started under this portal, through this portal all students can get advice about various online programs, scholarships and careers. In today's article, we are going to provide you all the information related to Punjab Career Guidance Portal. [Also Read- Punjab Voter List 2022: Punjab Voter List PDF, ceopunjab.nic.in Voter List]
Punjab Career Guidance Portal
Punjab Career Portal has been launched by Punjab Education Minister Pargat Singh to provide professional advice to the students in the institutes and schools of the state. Through this portal, a tailored career guidance webpage with 1047 hours of career courses on careers, colleges, entrance exams and scholarships is provided by the Government of Punjab to every student enrolled in a government school from class 9 to class 12. [Also Read- Punjab Sarbat Sehat Bima Yojana 2022: Sarbat Sehat Bima Registration, Hospital List]
Apart from this, through Punjab Career Guidance Portal, work is done to make youth through high quality training and education. Efforts are being made by the education department of the state to provide various online courses, scholarships and career opportunities to all the students of the state. [Also Read – PGI Chandigarh Online Appointment: New OPD PGI Chandigarh Registration]
But advice can be provided to the students. With the help of this portal, about 10 lakh children of the state can get all the important information about career counseling, courses and scholarship areas etc. while sitting at home. [Also Read- (Registration) Punjab Ghar Ghar Rozgar Yojana 2022: pgrkam.com online application]
PM Modi Scheme
Overview of Punjab Career Portal
| | |
| --- | --- |
| Scheme Name | Punjab Career Portal |
| Launched By | By Punjab Education Minister Pargat Singh |
| Year | 2022 |
| Beneficiaries | Secondary and higher secondary students |
| Application Procedure | Online |
| Objective | providing vocational guidance to students |
| Benefits | Vocational guidance will be provided to the students |
| Category | Punjab Government Schemes |
| Official Website | https://punjabcareerportal.com/ |
Objectives of Punjab Career Guidance Portal
The main objective of Punjab Career Portal is to provide guidance to the secondary and higher secondary students. Punjab's inability to choose the ideal professional path is a major contributor to the unemployment issue. [Also Read- (Registration) Punjab Grain Procurement Portal: anaajkharid.in Online Registration]
Through this portal, all the students of the state can get all the necessary and important things according to their talents, in case they need proper career support. be received at the right time. For the smooth operation of this work, on November 15, 2021, Punjab Education Minister Pargat Singh has announced the launch of Punjab Career Guidance Portal to provide professional counseling to the students in the institutions and schools of the state. About 10 lakh students can get information about courses, scholarships and career advice through this portal from the comfort of their homes. [Also Read- Punjab Doorstep Ration Delivery Scheme 2022: Apply Online & Check Eligibility]
Benefits of Punjab Career Portal
Punjab Career Guidance Portal has been launched by Punjab Education Minister Pargat Singh to provide guidance to secondary and higher secondary students.
Through this portal, students will be provided advice on various online courses, scholarships and career options.
Apart from this, the lives of all the students are connected through this portal through which they will be helped to reach their goals in life.
Comprehensive information about 1,150 entrance exams including application process is available through punjabcareerportal.com.
All the students will be informed about the various opportunities in the new trades emerging in the contemporary era.
There are over 21,000 universities and vocational schools open to all students. More than 550 different career routes will be covered through this portal.
It is an innovative effort of the education department to provide a common platform to the student community to resolve the issues that they may have in choosing their chosen path.
Procedure to Login on Punjab Career Portal
Applicants can complete the process of login on the portal by following the given easy steps
First of all you have to visit the official website of Punjab Career Portal. After this the homepage of the website will open in front of you.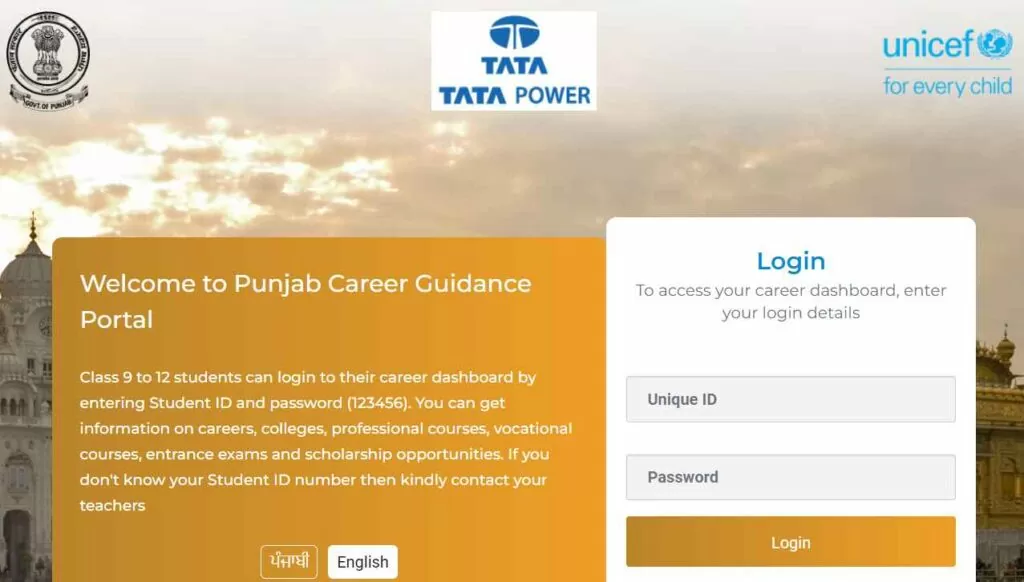 On the homepage of the website, you have to enter the login ID and password in the login section.
After this you have to click on the option of login, by following this process you can login to the portal.