DDA Housing Scheme 2021 Online Application | DDA Housing Last Date & Launch Date | DDA Housing Online Flat Registration | DDA Housing Price List & Location | DDA Housing Scheme 2021
DDA Housing Scheme 2021 has been launched by Delhi Development Authority to provide housing facilities to the economically weaker sections. Under this scheme, houses will be given to those who belong to lower class and who do not have their own house to live. Today in this article we will share with you all the important information related to the DDA Housing Scheme like the purpose of the scheme, the features of the scheme and the eligibility criteria. Also, we will tell with you all the application procedures to apply under this scheme.
DDA Housing Scheme 2021
The Delhi Development Authority has released a new housing scheme for those who do not have their own house where they can live. Under this Scheme, houses will be provided to economically weaker people to avoid difficulties due to not having their own land. This is an important step taken by the Delhi Development Authority. Interested applicants who want to apply under this DDA Housing Scheme 2021, they have to visit the official website. This plan will improve the condition of the economically weaker people, who are facing them while being landless.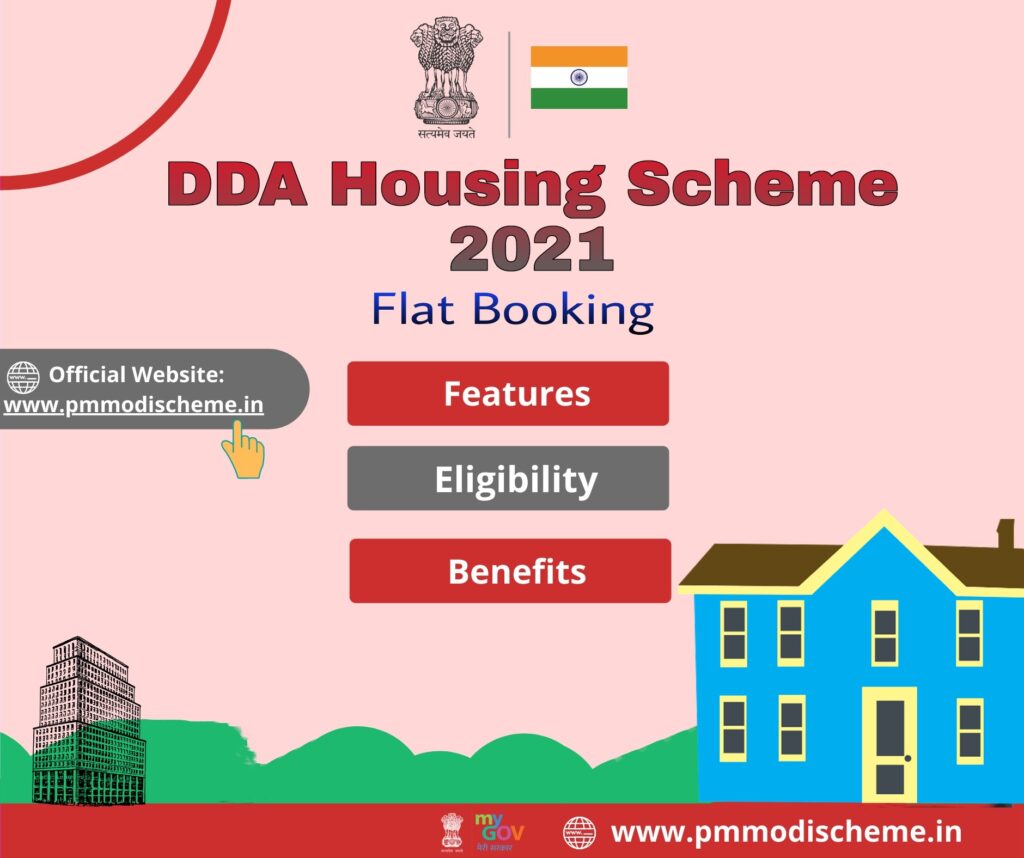 प्रधानमंत्री ग्रामीण आवास योजना
Overviews of DDA Housing Scheme
| | |
| --- | --- |
| Scheme Name | DDA Housing Scheme |
| Launched By | Delhi Development Authority |
| State | Delhi |
| Beneficiaries | People of State |
| Registration Process | Online/Offline |
| Objective | Providing homes at affordable rates |
| Category | Delhi Govt. Schemes |
| Official Website | www.dda.org.in/ |
New Registration Under DDA Housing Scheme 2021
As of 20 January, around 47000 people have registered under this scheme, which was released on 2 January 2021. Under the DDA Housing Scheme, a lot of draws for the housing scheme will be held in March. A total of 1354 flats have been put up for sale, of which 1011 are for the high-income group (HIG) and middle-income group (MIG) categories. And these residences are located in Jasola, Vasant Kunj, Rohini, and Dwarka. Apart from the location, these flats are of high quality including high-quality construction, facilities in the housing complex which includes 2 parking spots.
DDA officials said that we have received 46,500 registrations, out of which 9000 people have already submitted their applications and about 2,325 applicants have already paid.
The total number of registries is increasing day by day.
The DDA Housing Scheme 2021 has received good responses so far.
The last date to apply under this scheme is 16 February and it is also stated that a lot of draws for the new scheme will be held in the end of February or the first week of March.
January Update of DDA Housing Scheme
Delhi Development Authority is going to start on Saturday 20 January 2021. There are about 1350 flats for sale from Delhi to Dwarka, Jasola Mangalpuri Rohini, and Vasant Kunj. The launch was decided by the DDA in a meeting chaired by Delhi LT Governor and DDA Chairman Anil Baijal last week. DDA Housing Scheme relies entirely on online software called AWAAS software developed by DDA. With the help of this software, applicants can apply easily. All the formalities from filling the application form to payment possession can be done through this software till the last date which will be till 16 February 2021 as released by the concerned authority.
Draw will be on 5 March
For those who have been allotted flats, the DDA's Housing Scheme will be decided by a lottery-based draw. The draw will be drawn on 5 March.
Some Important Government Schemes:-
Schedule of DDA Housing 2021
| | |
| --- | --- |
| Registration begins from | 2nd January 2021 |
| Last date to register | 16th February 2021 |
| Last date to pay application fees online | 16th February 2021 |
| Date of draw | To be launched soon |
| Last date to refund amount open successful candidates | After 30 days of unsuccessful draw |
| Allotment date | Announced Soon |
| Possession | After allocation and first payment |
Delhi Mid Day Meal Yojana 2021
Important Points of Of Housing Scheme 2021
Around 1354 flats are for sale, of which 230 are for HIG in Dwarka and Vasant Kunj and 704 for MIG in Jasola and Dwarka.
There are 275 flats available in Mangalpuri, Dwarka which are of economically weaker section.
Three-bedroom HIG flats in Jasola are priced at Rs. 2.1 crores
The 2021 plan comes after a three-year failed housing scheme. And now the DDA has high expectations from it as the flats available under the scheme are located in well-connected areas.
Objectives of DDA Flats Scheme 2021
The issuance of the DDA Housing Scheme aims to fulfill the dreams of people belonging to various sections of the economically weaker society. Under this Housing Scheme, Availability of accommodation at cheaper rates will be ensured. The central government is working to fulfill everyone's dream of housing by 2022. Everyone wants their accommodation in this situation, although not everyone is able to fulfill their dream due to this rising inflation. Keeping all these things in mind, houses are being made available to all people by the Delhi Development Authority at a low cost. Through this housing scheme, people are fulfilling their dreams and the objective of this scheme is that no family should remain homeless.
Prices Of Flats Under DDA Housing Scheme
| | | | |
| --- | --- | --- | --- |
| Type Of Flats | Tentative Plinth Area (In Sq. Mt) | Total Flats | Price |
| HIG – 3 BHK | 107.21 – 140.77 | 336 | ₹ 1.43 Cr – 1.73 Cr. |
| HIG – 2 BHK | 99.08 – 123.41 & 86.97 – 102.74 | 152 | ₹ 95 L to 1.4 Cr. |
| MIG – 2BHK | 72.55 – 93.61 90.68 – 94.18 | 1,555 | ₹ 66 L – 99 L |
| EWS | 35.06 & 35.27 – 37.31 | 7,496 | ₹ 10 L – 19 L |
| LIG – 1BHK | 57.49 – 81.93 & 49.9 | 8,383 | ₹ 23 L – 56 L |
DDA Housing Scheme New Update
So far, more than 22,500 applicants have paid for the Delhi Housing Authority's new housing scheme. Officials said that till February 16, more than 33 thousand applications have been submitted for the scheme started for 1354 flats. In this regard, a senior official said, So far 22,536 applicants have been paid for various categories of flats for different categories HIG, MIG and LIG. However our details are matching with the data of the respective banks Many applicants faced some difficulties in making online payments. Some of them paid, but their name did not appear on the DDA's website. Therefore, the DDA is matching its figures with the data of banks in which applicants have deposited money.
Amenities Of DDA Flats
Children's Park,
Lawns
24/7 CCTV surveillance,
Parking lots
Lush Greenery
Penthouses And Super HIG flat features
Built-in terrace gardens
4-bedrooms, each with attached bathroom
Fully-furnished luxury fittings
Fully-furnished Duplexes with terrace garden
HIG Flats Features
3 bedrooms, each with en-suite bathroom
Servant quarters
Green building concept with solar heating, organic waste disposal and energy efficient lighting
Housing Scheme of Registration Charges
| | |
| --- | --- |
| Flat Categories | Flat Price |
| LIG | Rs 1 lakh |
| MIG & HIG | Rs 2 lakh |
| Janta Flat | Rs 10,000 |
| 1BHK | Rs 15,000 |
| EWS | Rs 25,000 |
DDA Housing Scheme 2021 Online Application
The flats have been distributed on sale for the year 2020 under the DDA Housing Scheme. In the year 2019, 18000 flats have been distributed on sale. Under DDA Housing, the flats would be allotted via computer by draw. So that the possibility of fraud and fraud can be avoided and every citizen of Delhi can buy these flats. Soon the scheme will be open for the year 2020. All those citizens of Delhi who are willing to apply for the DDA scheme can apply by visiting the official website.
DDA Housing Scheme List of Registered National Bank
We have given the list of banks below. You should read this list in detail-
State Bank of India
Central Bank of India
Yes Bank
Kotak Mahindra Bank
Induslnd Bank
HDFC Bank
ICICI Bank
Axis Bank
IDBI Bank
Eligibility Criteria DDA Housing Scheme 2021
The following eligibility criteria have been fixed for availing this scheme: –
Applicants applying for a flat under the housing scheme must be Indian citizens.
Applicant must be 18 or over.
Neither the applicant nor the applicant's wife / husband / minor dependent children should have a home in New Delhi, Delhi or Delhi Cantonment area.
If a person has been allotted a flat or house built by the DDA, then that person is not eligible for further benefits under any scheme.
Documents Required for Housing Scheme
Aadhar Card
Pen card
Pan card
Residence Certificate
Mobile Number
Residence certificate
Passport size photo
DDA Housing Scheme 2021 Online Registration

Firstly, you have to visit the official website of the DDA Flat Scheme. After this, the homepage of the website will open in Computer Screen.
Then, on the homepage of the website, you have to click on the option to "Register Online" in the menu bar. After this, you have to fill all the information like your name, date of birth, pen card, mobile number, email id, etc. in the given space.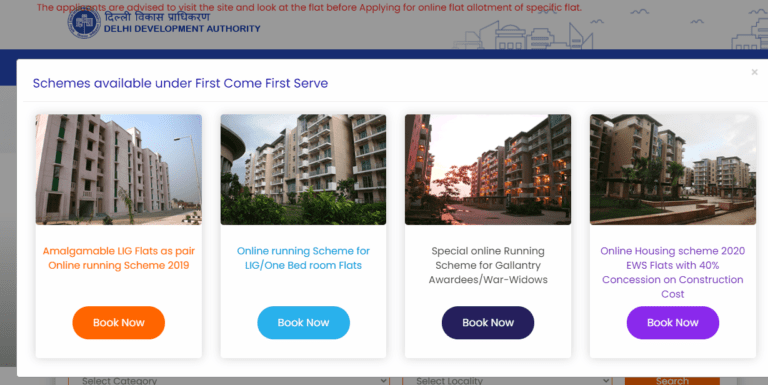 Now you have to click submit
After that, the user ID and password will be sent to your registered mobile number
Now you have to log in using this user ID and password. Now a registration form will appear in front of you. In the registration form, you have to enter all the necessary details like your personal details, bank details, address details, etc.
Now you have to upload your signature and photo.
After that, you tick one in the checkbox on the announcement
Now you have to submit this application form. After that, a new screen will appear before placing your registration number, date, and registration fee.
You have to pay this application amount by net banking for NEFT or RTGS
Now you have to click on make payment
After clicking on the Make Payment option, an application number, amount, and payment will appear on a screen.
Accepted slip will appear on your screen after payment of an amount
You must take a printout of this slip and secure it for future