WB Khela Hobe Scheme Apply Online, Check Eligibility | West Bengal Khela Hobe Scheme Registration, Benefits -The announcement to start the Khela Hobe Scheme to provide employment related benefits to the citizens of the state has been made by Bengal Chief Minister Mamata Banerjee on Friday. Funding of the 100-day job program by the central government was stopped in January 2022, due to which many citizens are facing employment related problems. Keeping this in mind, Mamta Banerjee has announced the start of this scheme, in today's article we are going to provide you with all the important information related to WB Khela Hobe Scheme. [Also Read- West Bengal Lakshmi Bhandar Scheme 2023: Download Application Form PDF]
West Bengal Khela Hobe Scheme
In January 2022, the funding of the 100-day job program was stopped by the central government, keeping in mind that the Chief Minister of the state, Mamta Banerjee, has announced the launch of the Khela Hobe Scheme. Through this scheme, jobs will be provided to all the citizens of the state who had cards under the 100-day job programme. In the beginning of this program, about 2.6 crore persons participated under this program, now this number has reduced to 1.4 crore. They are working as the foundation of the rural economy of Bengal, 8% of the Scheduled Tribes and 28.5% of the Scheduled Castes are the employees who are working under this program. Soon the WB Khela Hobe Scheme will be started by West Bengal in the state, due to which all the employees will continue to get employment. [Also Read- West Bengal Duare Ration List 2022: Check Duare Ration Beneficiary List]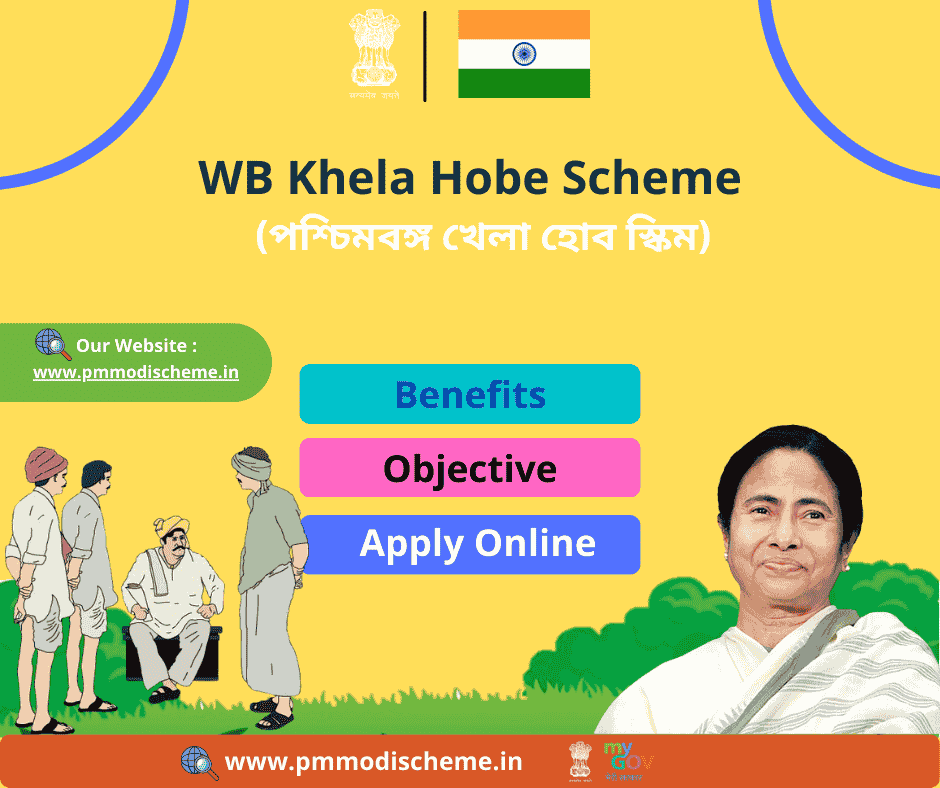 Overview of Khela Hobe Scheme
| | |
| --- | --- |
| Scheme Name | Khela Hobe Scheme |
| Launched By | By the Government of West Bengal |
| Year | 2023 |
| Beneficiaries | NREGA job card holders of the state |
| Application Procedure | To be launched soon |
| Objective | Providing employment to NREGA job card holders of the state |
| Benefits | Employment will be provided to NREGA job card holders of the state |
| Category | West Bengal Government Schemes |
| Official Website | To be launched soon |
Objectives of West Bengal Khela Hobe Scheme
The main objective of the WB Khela Hobe Scheme is to provide employment to the NREGS job card holders of the state, the funding of the 100-day job program was stopped by the central government in January 2022, keeping in mind that the Chief Minister of the state, Mamata Banerjee has announced the launch of this scheme. Such citizens of the state who had cards under the 100-day job program, all those citizens will be provided employment by the government through the Khela Hobe Scheme. [Also Read- Duare Sarkar Camp List 2023: Download District Wise Camp Schedule PDF]
Benefits and Features of West Bengal Khela Hobe Scheme
West Bengal Khela Hobe Scheme has been announced by the Chief Minister of the state Mamta Banerjee to provide 100 days of employment to the job card holders.
The smooth operation of this scheme cannot be done without a job program, due to which the state government is focusing on generating employment for the rural population.
Banglar Bari, now 11 lakh beneficiaries of rural housing will be provided housing by the rural housing program of the state government, citizens who have not received payment under the central program.
By getting the benefit of WB Khela Hobe Scheme, the standard of living of all the citizens of the state will improve, and they will become self-reliant and empowered.
Apart from this, Bengal has reduced poverty by 11% in the last year and 26% in the last ten years, according to the survey of NITI Aayog.
Eligibility of Khela Hobe Scheme
It is mandatory for the citizens who want to get the benefit of this scheme to be a native of the state of West Bengal.
Only those citizens of the state who have NREGA Job Card will be able to get the benefit of this scheme.
How to Apply under WB Khela Hobe Scheme
All those citizens who want to apply under this scheme to get the benefits of West Bengal Khela Hobe Scheme, all those citizens will have to wait for some time to apply under this scheme. Because the state government has just announced the launch of this scheme, this scheme has not yet been implemented in the state, apart from this, the official website has not been started by the government to apply under this scheme. As soon as any kind of information related to applying under this scheme will be made public by the state government, we will provide you the information through this article.